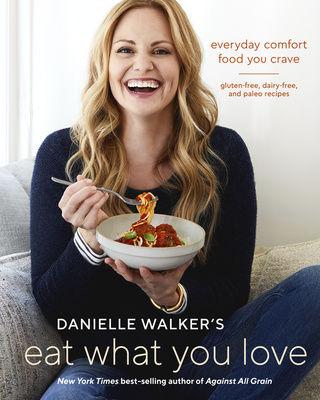 I love the premise of Danielle Walker's latest cookbook, "Eat What You Love: Everyday Comfort You Crave."
Even if you're gluten-intolerant (which so many people seem to be), have a dairy allergy, suffer from an autoimmune disease, are following a paleo diet or just want to incorporate healthy eating a few days a week, you can easily do so with her book.
Walker likes to take foods we love – think lasagna, apple crisp, fried chicken (yes, fried chicken), sloppy Joes and chicken pot pie – and make them healthy and flavorful.
"I'm always looking for ways to incorporate more vegetables into my family's meals, and using riced cauliflower in this fried rice recipe inspired by Chinese takeout is a great way to do it," she writes in the description for one of her easy recipes.
"The salty sauce can make any vegetable taste appealing," she writes, "and this dish is pretty much all veggies. While it's super-simple to make cauliflower rice at home, many supermarkets sell fresh or frozen riced cauliflower, so that's what I use more often than not. Go ahead and use it straight from the freezer; there's no need to thaw it first."
I've cooked several recipes out of this book, which I just received, and all of them have turned out great – helping me keep my New Year's resolution of eating healthier.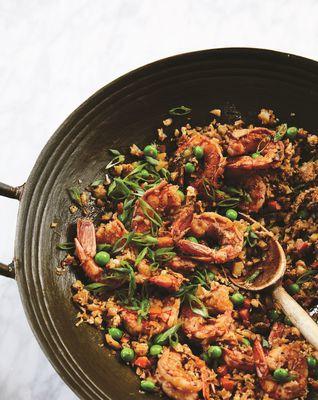 Shrimp Fried Rice
1 1/2 pounds jumbo raw shrimp, peeled, deveined and tails removed
6 tablespoons coconut aminos (see note below)
2 tablespoons toasted sesame oil
1 head cauliflower, cut into florets
5 tablespoons avocado oil
1/2 small yellow onion, minced
2 teaspoons fresh ginger, peeled and minced
1 1/4 teaspoons fine sea salt
2 green onions, tender green tops only, chopped
Combine the shrimp, 1 tablespoon of the coconut aminos, and 1 tablespoon of the sesame oil in a bowl.
Place the cauliflower in a food processor fitted with the grating attachment, or use the large holes on a box grater, and process the florets into rice-size pieces. Pick out any large fragments that didn't shred, and chop them up by hand with a knife, or save for another use. You should have around 3 cups riced cauliflower.
Heat 2 tablespoons of the avocado oil in a wok over medium-high heat. Add the onion, garlic and ginger, and cook, stirring continuously with a wooden spoon, for 2 minutes, until fragrant.
Add the carrot, and cook, stirring continuously, for 2 minutes.
Add the remaining avocado oil and the cauliflower, and cook, stirring occasionally, for 4 minutes. Transfer the cauliflower mixture to a plate and return the wok to the heat.
Add the shrimp mixture to the wok and sear for 1 minute per side, until pink all over and just cooked through. Transfer the shrimp to the plate with the cauliflower and return the wok to the heat.
Pour the eggs into the wok and stir to scramble them for 10 seconds, until mostly cooked through. Pour the cauliflower mixture and shrimp back into the wok, and add the remaining coconut aminos, the remaining sesame oil and the salt. Stir in the peas and cook for 1 minute longer. Top with the green onions and serve immediately.
Note: Coconut aminos, which are available at some local grocery stores or can be ordered online, are a paleo substitute for soy sauce and still deliver the same salty tang, only they contain no soy and no wheat. If you'd rather just stick with soy, use the same amount as the coconut aminos.
– Recipe from "Eat What You Love"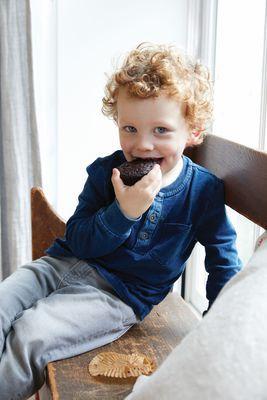 Chocolate-Zucchini Muffins
1 1/2 cups shredded zucchini (or shredded carrots)
1 cup unsweetened applesauce
1/2 cup unflavored collagen peptides powder or protein powder of your choice (optional)
6 tablespoons arrowroot powder
1 teaspoon ground cinnamon
1/4 teaspoon ground nutmeg
1/2 teaspoon fine sea salt
1/2 cup dairy-free chocolate chips (optional)
Heat the oven to 350 degrees, and line two 12-cup muffin tins with baking cups, or grease the tins with coconut oil.
Line a plate with paper towels. Place the zucchini on the plate, and allow it to drain some of its moisture while you make the batter.
Place the eggs, applesauce and maple syrup in a stand mixer fitted with the beater attachment, or use an electric handheld mixer. Mix on medium speed until combined.
Add the coconut flour, collagen peptides powder, cacao powder, arrowroot, baking soda, cinnamon, nutmeg and salt, and mix on medium speed until combined.
Wrap the paper towels around the zucchini and give it a light squeeze to remove any remaining moisture.
Add the zucchini to the batter along with 1/4 cup of the chocolate chips, and mix on low speed until incorporated. Divide the batter evenly among the muffin cups, filling each two-thirds full. Sprinkle the remaining chocolate chips over the top.
Bake for 22 to 25 minutes, until a toothpick inserted into the center of a muffin comes out clean. Remove the muffins from the pan and allow them to cool completely on a wire rack before serving or storing.
Freeze in a single layer on a rimmed baking sheet, tightly covered with plastic wrap, for 4 hours. Place the frozen muffins in an airtight container and freeze for 4 months.
To eat the muffins directly from the freezer, heat them in a 350-degree oven for 10 minutes, until warmed through. Or, defrost in an airtight container in the fridge overnight, or for up to 1 week. If you prefer, warm on a baking sheet in a 400-degree oven for 2 to 3 minutes.
– Recipe from "Eat What You Love"
Jane Ammeson can be contacted via email at janeammeson@gmail.com or by writing to Focus, The Herald-Palladium, P.O. Box 128, St. Joseph, MI 49085.
https://kenaiorganicfarms.com/wp-content/uploads/2019/01/5c4764d0ba4a8.image.jpg
400
320
KenaiOrganicFarms
https://kenaiorganicfarms.com/wp-content/uploads/2018/09/organic-coconut-oil-logo.png
KenaiOrganicFarms
2019-01-24 16:11:46
2019-01-24 16:11:46
A couple of recipes from 'Eat What You Love' | Features