Healthy Cake Recipes for Mother's Day Brunch
My easy cake recipe is also one of the best low-carb almond flour recipes for Mother's Day brunch –it's a great gift for Mom.
Kosher for Passover Coffee Cake
This Cinnamon Coffee Cake made from almond flour is also Kosher for Passover, because, like all of my recipes, it doesn't contain chametz.

Gluten-Free Almond Flour Recipes
I created this Cinnamon Coffee Cake recipe by adapting it from one pioneered in my first book, The Gluten-Free Almond Flour Cookbook, published in 2009.
This book still sells like hotcakes, pardon the expression. Both coffee cake recipes are dairy-free almond flour recipes.
Coffee Cake Recipe – Where's The Coffee?
American coffee cake is a tender cake with a rich topping baked into it. This type of coffee cake rarely, if ever, contains coffee.
It's called coffee cake because it's typically served at breakfast, or in the afternoon, along with coffee.
We often serve Cinnamon Coffee Cake for dessert after a festive meal. If you're interested in coffee cake muffins, check out my Nut-Free Pumpkin Coffee Cake Muffins.
Breakfast for Dinner
The awesome thing about this Cinnamon Coffee Cake recipe is it can be used for breakfast, brunch, lunch, or dinner. So many uses for one phenomenal recipe make it super popular.
Breakfast Recipes
In need of breakfast ideas? Below are some of my favorite breakfast recipes that would also be fantastic for brunch, lunch, or dinner!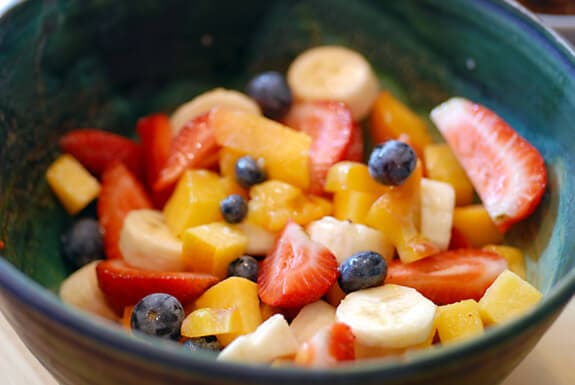 Fruit Salad
My fruit salad recipe is so simple and delicious. I will show you how to make fruit salad that everyone will request!

Blueberry Coffee Cake
Since we are all about coffee cake recipes in this post, I wanted to share my Blueberry Coffee Cake recipe from my third book Paleo Cooking from Elana's Pantry.
Like my Cinnamon Coffee Cake, it's a fan favorite.

Huevos Rancheros
My Huevos Rancheros recipe is a family favorite breakfast for dinner recipe in this house!

Breakfast Sausage with Frittata and Salsa Verde
Above is one of my favorite photos from Paleo Cooking from Elana's Pantry, an entire breakfast preview of the meal that includes my Breakfast Sausage recipe, along with my Frittata and Salsa Verde recipes too.
I love any salsa recipe on my frittata as much as I love frittata for breakfast!
How to Make Cake from Almond Flour
So, now you know how to make cake from almond flour, and thankfully these cake recipes from scratch could not be easier.
Easy Brunch Recipes
I threw in a couple of other items like a fruit salad recipe, sausage recipe, and more, to get your breakfast ideas going and get you set up for some healthy, happy low-carb cooking success.
This post is an oldie but goodie from the archives. I first shared this Cinnamon Coffee Cake recipe in March 2015.
---
Buy My Books!
---
https://kenaiorganicfarms.com/wp-content/uploads/2021/05/Cinnamon-Coffee-Cake-43591.jpg
348
575
KenaiOrganicFarms
https://kenaiorganicfarms.com/wp-content/uploads/2018/09/organic-coconut-oil-logo.png
KenaiOrganicFarms
2021-05-07 00:38:43
2021-05-07 00:38:43
Easy Cinnamon Coffee Cake Recipe