A can of pureed pumpkin and a few baking staples are all you need to mix up a sweet and spicy loaf of pumpkin bread.
Most recipes typically rely on butter, flour, sugar, vegetable oil and eggs, much of which doesn't fit into specific diet plans, including keto, paleo or gluten-free.
But pumpkin bread is still in the cards — no matter what kind of diet you're following. Need a vegan or low-fat option? Going keto? We've got you covered this pumpkin season with these eight diet-friendly recipes.
Are You Getting Enough Fruits and Veggies?

Track the number of fruits and vegetables you eat every day by logging your meals on the MyPlate app. Download now to fine-tune your diet today!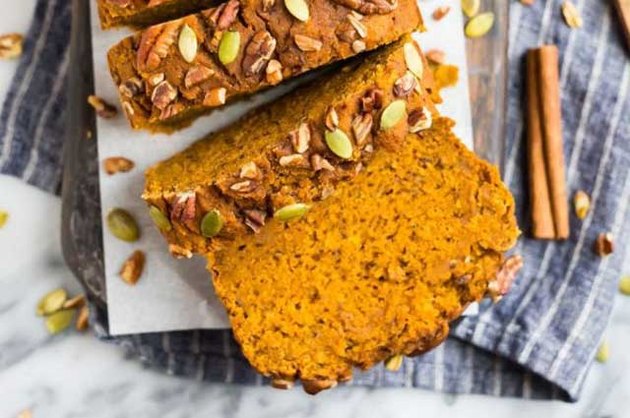 This dairy- and egg-free pumpkin bread will not disappoint. It still manages to be springy and moist without the egg, making it an ideal treat for vegans. Flaxseed meal is used in place of eggs (just add water) and applesauce replaces the fat that typically comes from butter or oil.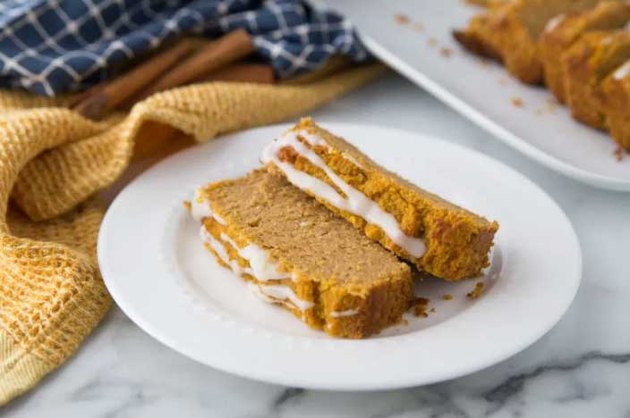 195 calories per serving
3 net carbohydrates per serving
You can stick to your keto diet and enjoy a slice of pumpkin bread thanks to this innovation from Kasey Trenum. Trenum does admit that because this recipe omits gluten-containing ingredients, the bread loses some of that fluffy texture, but it still delivers a moist slice filled with pumpkin flavor.
For sweetness, this recipe calls for monkfruit powdered sugar. Monkfruit is derived from a sweet melon grown in Southeast Asia and contains nearly zero calories per teaspoon.
Get the Best Keto Pumpkin Bread recipe and nutrition info at Kasey Trenum.
3. Gluten-Free Pumpkin Bread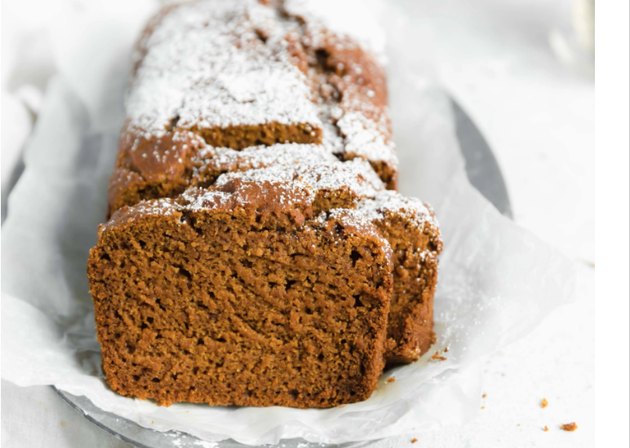 If you love pumpkin bread but not the gluten that typically comes with it, then you must try this gluten-free option ASAP. A Bob's Red Mill gluten-free flour mix made up of garbanzo bean, potato starch, whole-grain white sorghum flour, tapioca and fava bean makes this recipe come to life.
Expect a dense yet springy loaf that doesn't fall flat. Pumpkin, cloves, cinnamon and nutmeg combined with maple syrup deliver the spicy sweetness we all love.
Get the Healthy Gluten-Free Pumpkin Bread recipe at Broma Bakery.
4. High-Protein Pumpkin Bread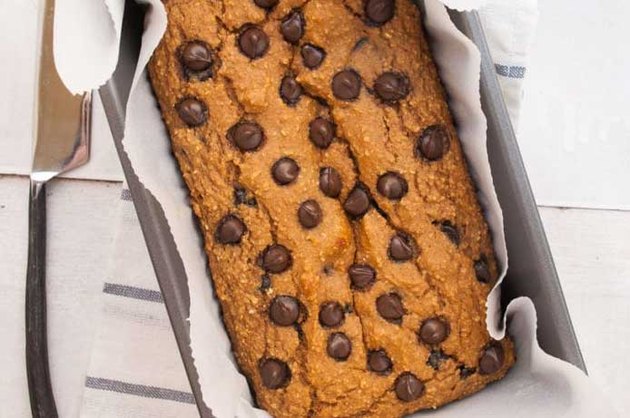 173 calories per serving
11 grams protein per serving
This pumpkin bread checks a lot of boxes. It's high-protein, yes, but it's also gluten-free, dairy-free and lower in fat than many recipes. Consider it an all-around healthier pumpkin bread option (but don't fear blandness — the chocolate chips add sweetness and delight).
Eggs and vanilla protein powder provide the majority of the protein in this loaf, and almond milk and dairy-free chocolate keep it dairy-free.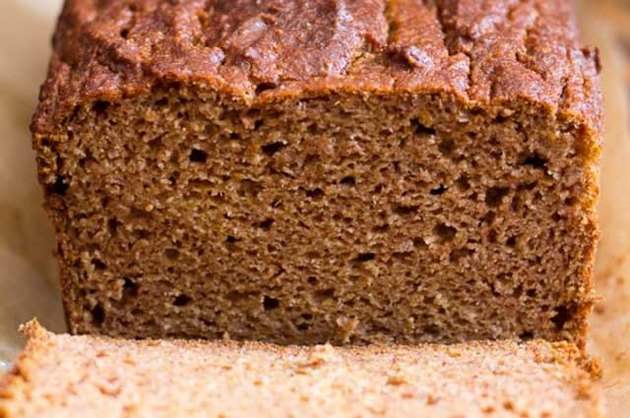 Our Paleolithic ancestors were probably not eating pumpkin bread, but the ingredients used here are considered paleo by most. Eggs, pumpkin puree, coconut milk, maple syrup, vanilla extract, flour (almond, tapioca and coconut), baking soda, salt and spices all come together for a wonderful, pumpkin-forward treat.
Feel free to spread almond or cashew butter on a slice for a decadent (but still paleo!) addition.
6. Low-Calorie Pumpkin Bread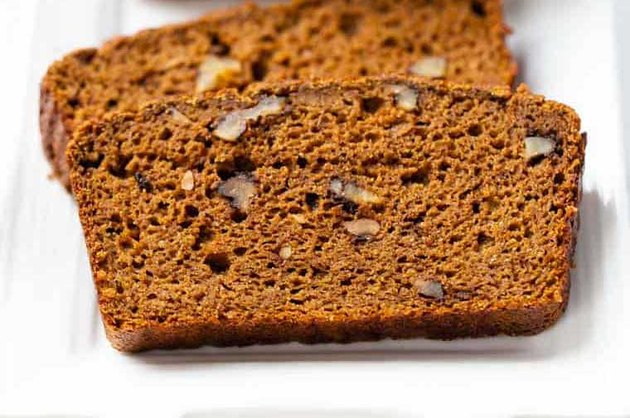 If you're counting calories and still want in on the pumpkin bread festivities, then Simply Quinoa has the perfect recipe. This bread is full of good-for-you ingredients like eggs, pumpkin puree, apple cider vinegar, avocado oil, walnuts and spices, and it's free of artificial sweeteners. The recipe calls for just a half-cup of coconut sugar and the oil is minimal, too — just 2 tablespoons for the entire loaf.
Get the Coconut Flour Pumpkin Bread recipe and nutrition info at Simply Quinoa.
7. Low-Carb Pumpkin Bread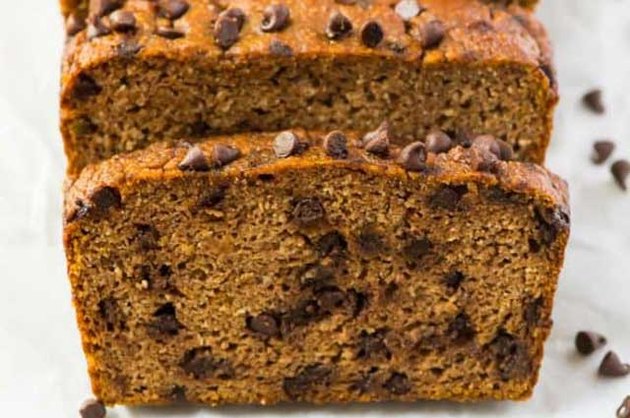 153 calories per serving
9 net carbohydrates per serving
Maybe you're not following a full keto diet, but you're still looking for a lower-carb option. This pumpkin bread from Well Plated by Erin has just 9 grams of net carbohydrates per slice. To keep the carbs at a minimum, the recipe uses blanched almond flour in place of all-purpose flour, and just one-fourth cup of maple syrup for sugar.
Be sure to purchase a can of pureed pumpkin, not pumpkin pie filling for this recipe — the latter contains way more calories and added sugars.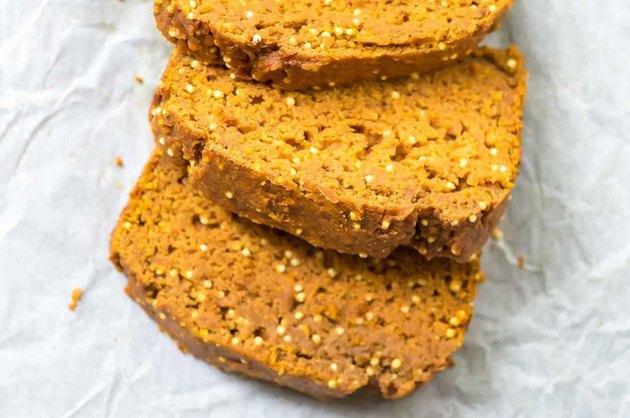 180 calories per serving
4 grams fat per serving
Whether you're balancing macros or trying to keep your saturated fat intake low, this is a pumpkin bread recipe you'll definitely want to try. The only fat in this recipe comes from one egg and two tablespoons of canola oil. Fat adds texture and moisture to baked goods, but this loaf maintains all that thanks to the Greek yogurt and millet. The yogurt keeps it moist and adds protein while the millet, a whole grain, adds a nice crunch to every bite.
https://kenaiorganicfarms.com/wp-content/uploads/2020/10/258defa7e7d145ae9122f6ee10746164.jpg
426
640
KenaiOrganicFarms
https://kenaiorganicfarms.com/wp-content/uploads/2018/09/organic-coconut-oil-logo.png
KenaiOrganicFarms
2020-10-28 19:54:56
2020-10-28 19:54:56
Healthy Pumpkin Bread Recipes: Vegan, Low-Calorie and More