The shape of the leaves fanned out on the SuperCharge! wooden juice bar counter look as familiar as a maple, with nine spindly fronds fanning out like miniature palms.
About six to 10 of these leaves make one serving of CBD-rich cannabis. It looks like marijuana but, with less than .03 percent THC, it won't get a person high.
Like a boost of wheatgrass, these raw cannabis leaves are a new $2 upgrade at SuperCharge! on East Washington Avenue, available in a smoothie, in a cold pressed juice or frozen into an ice cube.
"Traditionally, cannabis has been bred to produce high THC," said Chelsea Mayton, founder and owner of Wisconsin Cannabis Cultivars. The types Mayton grows — specifically, Otto II, BaOx and Boring Hemp Co. No. 1 — have high CBD, the compound that proponents say has medicinal value for a wide variety of things, from epileptic seizures and depression to nausea, muscle pain and tumors.
The flavor of raw cannabis leaves is bitter and vegetal, but in a SuperCharge! smoothie ($5-$7) mostly not noticeable.
It's also not an immediately powerful dose of medicine. Raw cannabis needs to build up over time, "so give it two or three days if you're using it regularly to start to see effects," Mayton said.
"We had a customer come in for the fourth time, and she was saying yesterday that she can tell the difference," said juice bar manager Cassie Armstrong. "She feels better."
"She said that she forgot that she's in pain," Mayton said.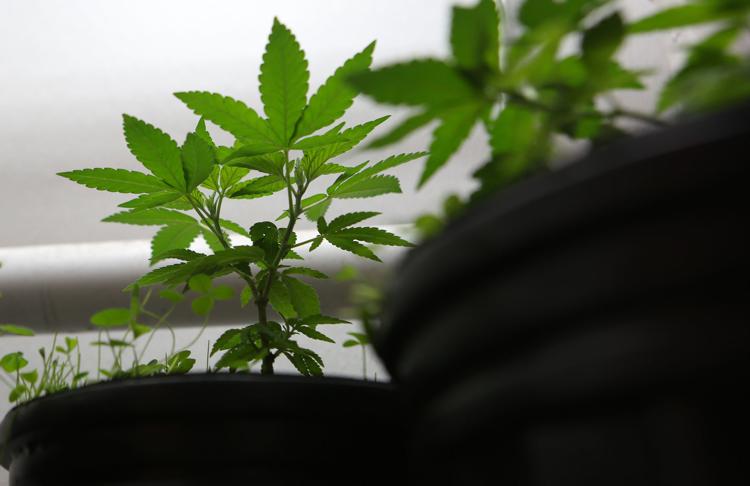 Since the state launched its Industrial Hemp Pilot Research Program, hundreds of farmers like Mayton have applied to grow or process hemp (hemp and cannabis refer to the same plant). The laws still feel pretty shaky; for a few weeks in May, the state Department of Justice declared that the sale of CBD oil was illegal, only to reverse the decision a few weeks later.
Entrepreneurs are seizing the moment anyway. Two new mall kiosks called Highly Edibles 608 and 608 Hemp opened last week at West Towne and East Towne respectively, both selling CBD oil, water and other products. Both are owned by Mike McGee, a former Milwaukee alderman.
Mayton, a longtime gardener, got into growing cannabis in 1996 after her father passed away from leukemia and she learned that cannabis "probably would have saved his life," she said. In 2015, she moved to The Dalles, east of Portland, Oregon, to learn more about growing cannabis.
Last winter, she moved back to apply what she'd learned to her Wisconsin home.
"There's a lot of farmers who may grow three or four different crops, have different animals, and they're trying to diversify to make some extra money," said Jamaal Stricklin, SuperCharge!'s director of sales. "She's specialized, it's her only crop."
Mayton farms one acre of plants near McFarland, with additional plants in the grow room where SuperCharge! raises pea shoots, sunflower shoots and wheatgrass. Right now, SuperCharge! is her primary client. An inspector told her that she's the only female hemp grower he'd met so far.
Running this new business has been challenging, Mayton said, in part because the regulations vary between the state and federal governments and misinformation about what cannabis actually does is widespread.
"Legalities are always changing," Mayton said. "You have to keep watching what the government is doing. It was hard to obtain seeds."
Mayton's longterm goal is to sell her cannabis products, like fresh leaves infused in coconut oil, directly to consumers at a market stand. She could be a tenant in the future Madison Public Market, for example.
SuperCharge! likes working with her cannabis, Stricklin said, because "it's adding to that small incremental lifestyle change" in the same way that microgreens do.
"As she develops her process of making the oils, we would look into possibly carrying the oils," Stricklin said, which can be eaten or used topically on the skin or lips.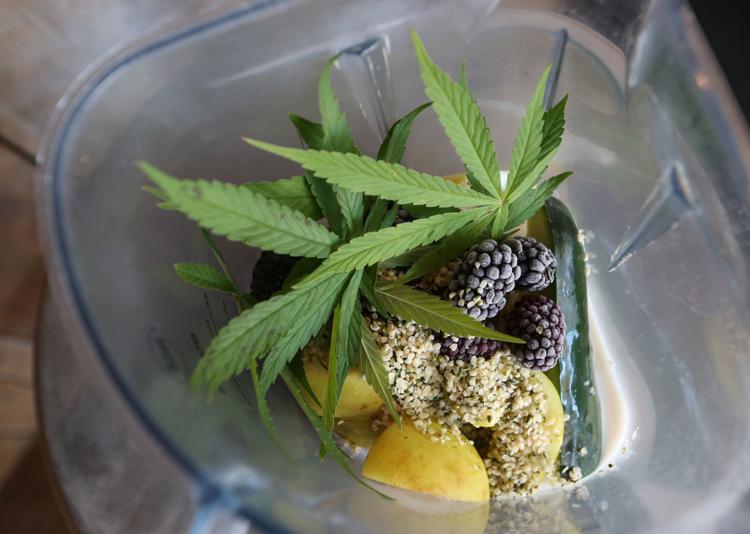 Both Mayton and Stricklin feel passionately about how high-CBD cannabis can help people. But Mayton doesn't want to expand too much — "it's going to be small batch craft cannabis," she said.
Does having a cannabis business or close a relationship to one position Mayton and SuperCharge! to be well-positioned to pivot if Wisconsin legalizes marijuana for medicinal or recreational use? Stricklin was circumspect.
"What SuperCharge! does is increase knowledge of the subject, so that when it comes down to voting or being informed, they can say we got some information from SuperCharge!," Stricklin said. "I don't know if it's easy for us to pivot to selling a bunch of weed. It's more important to create awareness of CBD, THC, cannabis and what those things are … what hemp is, what you can do with it."
There's also another aspect of legalizing cannabis that touches a nerve.
"As more and more states legalize recreational cannabis," Stricklin said, "until we go back and overturn some of the drug convictions that have been a plight on African-American males age 15 to 30, until we do that, I won't be satisfied. There are social ramifications … that's a real big deal.
"Helping people is one thing, but you've got generations of people that have been thrown away."
https://kenaiorganicfarms.com/wp-content/uploads/2018/09/5ba2bd1cee7a0.image.jpg
630
1120
KenaiOrganicFarms
https://kenaiorganicfarms.com/wp-content/uploads/2018/09/organic-coconut-oil-logo.png
KenaiOrganicFarms
2018-09-23 00:07:15
2018-09-23 00:07:15
Its legality settled, CBD-rich cannabis is juicing up Supercharge! smoothies | Dining