Whip up these keto-friendly crumb bars packed with coconut cream, apricot filling, and a crunchy crumble on top!
These no-bake bars are the perfect low-carb treat to enjoy any time of the day. Made dairy-free and grain-free, they pair great alongside a cup of coffee. Best part is, they're a cinch to make and require minimal prep work.
Use the Crust to Double Up as the Crumb Topping
The first layer of this recipe consists of an egg-free crust made with blanched almond flour, monk fruit sweetener, coconut oil, and rich vanilla. We use this same mixture to make the crumble layer on top, making for easy prep. As a bonus, you can also use this crust recipe for other Paleo treats like pies and tarts.
Looking for low carb keto recipes to burn fat and lose weight?
Click here to get your FREE Keto Breakfast Recipes Cookbook!
When spreading the first layer of crust into the pan, make sure to generously pierce the dough on top using a fork. This allows air to circulate throughout the baking process and prevents the crust from bubbling up in the center.
Monk fruit sweetener makes the perfect alternative to refined sugars and won't leave a bitter aftertaste the same way Stevia or other artificial sweeteners tend to do.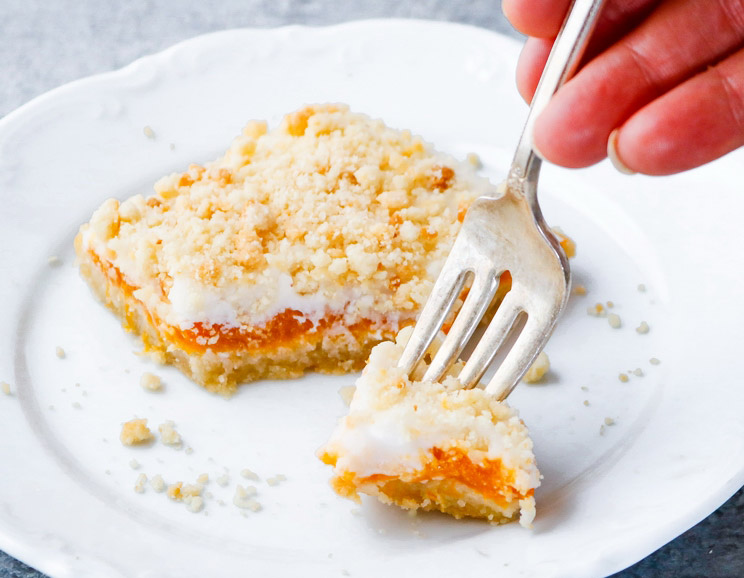 Packaged Apricots vs Fresh Ones: Both are Big Winners Here
Packaged apricots make prep work a breeze for the filling and are the best way to enjoy this seasonal fruit all year long. It's a simple way to ensure the fruit is soft enough to mash, without having to spend extra time cooking them to the right consistency. To keep things Paleo-friendly, you'll want to shop for apricots packaged in water to avoid added sugars.
If you do decide to use fresh apricots, make sure to cook the mixture for an additional five minutes to soften them up. This will make the mashing process easier to combine with the monk fruit sweetener and grass-fed gelatin. The gelatin will also help firm the apricot filling to keep the bars stable and dense (without crumbling apart).
Kick Up Guilt-Free Indulgence with Creamy Coconut
Coconut butter and coconut cream melt together to form a thick creamy glaze that coats the top layer of these bars. Along with helping the crumble stick on top, it creates a taste similar to whipped cream without the need for dairy.
Once all the layers are added, the bars are set inside the fridge to chill. This makes them easier to slice, creating nine snack-sized bars you can easily dig into with a fork! If you need to store any leftovers, simply refrigerate them in an airtight container for up to one week.
Jennafer Ashley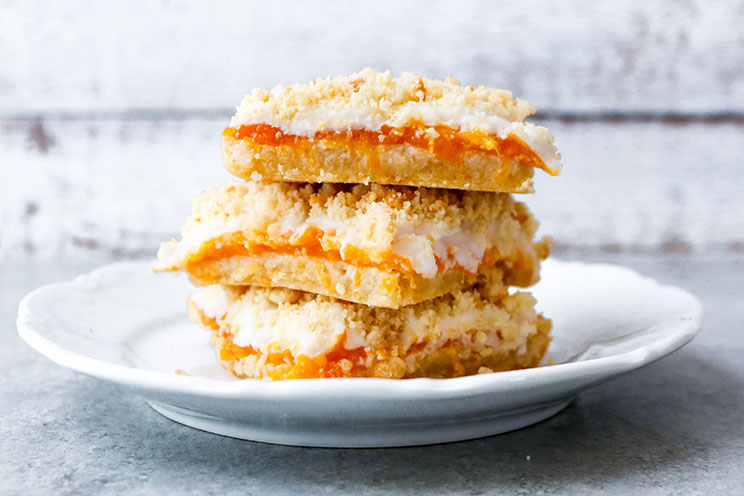 Total time:2 hrs
23 mins
Inactive Time:1 hr 30 mins 1 hour 30 minutes
Cook Time:33 mins 33 minutes
Prep Time: 20 mins 20 minutes
Nutrition facts:9 grams of protein12 grams of carbohydrates47 grams of fat
Keto Almond Flour Apricot Crumb Bars
Whip up these keto-friendly crumb bars packed with coconut cream, apricot filling, and a crunchy crumble on top.
Ingredients
For the Crust:
For the Coconut Cream Layer:
Looking for Paleo ingredients? Here are a few we'd recommend:
Almond flour (Hodgson Mill)
Monk fruit powder (Julian Bakery)
Cold pressed coconut oil (Viva Naturals)
Vanilla extract (Frontier)
Sea salt (REDMOND)
Unflavored gelatin (Great Lakes)
Coconut cream (Native Forest)
Coconut butter (Artisana)

(You'll Also Love: Almond Butter and Jelly Dessert Bars)
Looking for more keto-friendly sweets and desserts that won't throw you out of ketosis? You'll find cookies, cakes, ice creams, candies, brownies, and more in our Keto Sweets book, all made with low-carb, nutritious ingredients, like healthy fats and keto-friendly sweeteners. There are over 80 desserts to choose from, meaning you'll never get bored. Order your copy here.
https://kenaiorganicfarms.com/wp-content/uploads/2019/03/SCHEMA-PHOTO-Keto-Almond-Flour-Apricot-Crumb-Bars.jpg
496
744
KenaiOrganicFarms
https://kenaiorganicfarms.com/wp-content/uploads/2018/09/organic-coconut-oil-logo.png
KenaiOrganicFarms
2019-03-31 16:59:24
2019-03-31 16:59:24
Keto Almond Flour Apricot Crumb Bars