Keep calm and carry on with these lavender and CBD truffles you can indulge in before bedtime!
Ease into a peaceful night's sleep with a decadent treat that helps relieve anxiety and stress naturally.
To create the center of the truffle, we combine subtle bursts of blueberry, honey, and shredded coconut with CBD oil (cannabidiol). The oil is a non-psychoactive derivative of cannabis sativa and has the ability to reduce a range of anxiety types safely through regular and proper use. (1)
Love Paleo Desserts? Then you'll love our FREE Paleo Dessert Cookbook.
Click here to get your FREE copy of our delicious Dessert Recipes!
For the outer shell, we steep lavender and coconut cream to infuse the two flavors together. We then melt it with dark chocolate in a double boiler to create a silky smooth glaze that coats the entire truffle. Incorporating the lavender into the glaze is a great way to promote better sleep and induce relaxation. (2)
To get started, melt the coconut cream in a double boiler over medium-low heat for about 5 minutes. Add in the lavender buds and reduce the heat to low. Allow the mixture to steep for 10 minutes.
In the meantime, stir together the coconut oil, cbd oil, honey, blueberry powder, and desiccated coconut in a medium mixing bowl. Scoop out one tablespoon of the mixture from the bowl and form it into a small ball with your hands. Place it onto a plate lined with parchment paper and repeat the process until you have 12 truffle balls.
Next, transfer the truffles into the freezer and allow them to set for 10 minutes. Strain the lavender buds from the coconut cream and set them aside for later. You can also use them as a garnish to bump up the aroma and potency.
When ready, add the coconut cream back to the double boiler and simmer it over medium heat. Add in the chocolate chips and stir well for seven minutes. You'll want the chocolate chips to be fully melted before turning off the heat and removing the bowl from the stovetop.
When the glaze is ready, remove the truffles from the freezer and dip each one into the chocolate one-by-one. Return all coated truffles back to the lined plate and sprinkle with additional lavender buds on top. Transfer the truffles back to the freezer and allow them to set for 20 minutes.
When finished, serve with your favorite tea or store in an airtight container inside the fridge for up to one week.
Jennafer Ashley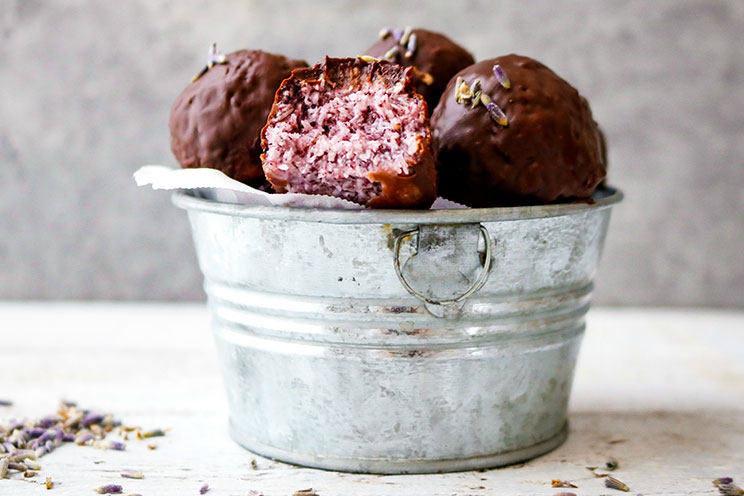 Total time:57 mins
Inactive Time:30 mins 30 minutes
Cook Time:12 mins 12 minutes
Prep Time: 15 mins 15 minutes
Lavender Chocolate Coconut Oil CBD Truffles for Better Sleep
Keep calm and carry on with these lavender and CBD truffles you can indulge in before bedtime.
(You'll Also Love: Chocolate Turmeric Truffles with Coconut Oil)
https://kenaiorganicfarms.com/wp-content/uploads/2019/03/FB-Lavender-Chocolate-Coconut-Oil-CBD-Truffles-for-Better-Sleep.jpg
630
1200
KenaiOrganicFarms
https://kenaiorganicfarms.com/wp-content/uploads/2018/09/organic-coconut-oil-logo.png
KenaiOrganicFarms
2019-03-21 22:39:08
2019-03-21 22:39:08
Lavender Chocolate Coconut Oil CBD Truffles for Better Sleep