These recipes are a reflection of the changing dialogue about what we eat. They are a celebration of all things vegetable and their growing prominence at our tables. I want to show you how they can be the star. As the Sri Lankans are fond of saying, you can "curry anything" – and I want you to embrace the idea of a meal where flesh is not the main event. Vegetables and grains and pulses can shine. And here they do. Very brightly.
Cooking with vegetables is a very natural thing for me. My grandmother was a vegan all her life and Sri Lankans would usually have only one piece of meat, if any, in their meals, along with lots of different vegetable curries. Growing up in Sri Lanka, I was exposed to a multitude of vegetables, pulses and grains, and saw how these elements are celebrated in the subcontinent's different cuisines. I am not a vegetarian, but I do love vegetables. They can become such a complete and joyous meal, and my motivation – far above those associated with choice based on taste, environmental or moral reasons – is just to cook with more vegies.
Watakolu vanjanaya (ridged gourd curry)
This is a beautiful and unique curry, using an equally unique vegetable that is surprisingly easy to grow. In Sri Lanka, this is one of the curries you would have in your rice and curry selection. On a recent trip there I tasted this curry after many years, and it took me straight back to my grandmother's smoky black kitchen, where one of the house girls would meticulously clean the gourd, ensuring that the skin on the hard outer ridges was removed, but the skin within the concave dips retained.
If the gourd is in perfect condition, the seeds will still be white and edible; otherwise, it's best to remove the seeds if the gourd is a bit old. There is no real replacement for ridged gourd in terms of flavour and texture, but any member of the gourd family will work in this curry.
Vegans and pure vegetarians can omit the Maldive fish.
serves 6
2 ridged gourds
1 onion, diced
2 Indian green chillies, halved lengthways
½ tsp fenugreek seeds
1 fresh curry leaf sprig, leaves picked
1 tsp Maldive fish (optional), finely pounded using a mortar and pestle
1 tsp ground turmeric
2 tsp raw curry powder
½ tsp chilli powder
salt, to taste
300ml coconut milk
200ml coconut cream
juice of ½ lime
a pinch of dark roasted curry powder (below)
Take the gourds and peel the skin from the ridges, leaving the skin on the concave inner dips of the gourds. Cut each gourd in half, and then on an angle into 4 cm pieces.
Place all the ingredients, except the coconut cream, lime juice and roasted curry powder, in a heavy-based saucepan, stirring until well combined.
Bring to the boil over medium–high heat and cook for about 10 minutes, or until the skin of the gourd is tender.
Stir in the coconut cream and bring to the boil, then immediately turn off the heat.
Stir in the lime juice and serve garnished with a sprinkling of roasted curry powder.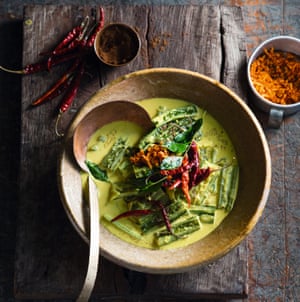 Raw curry powder
This is great for vegetable curries, and is best cooked with the vegetables. Use it as you would a store-bought curry powder. It is perfect for curried egg sandwiches.
makes 100g
6 tbsp coriander seeds
2 tbsp cumin seeds
1 tsp fennel seeds
1 tsp brown mustard seeds
1 x 5 cm cinnamon stick, crumbled
4 cloves
4 green cardamom pods
5 dried curry leaves
1 tsp whole black peppercorns
Turn on your kitchen exhaust fan, so you don't have a houseful of coughing people.
Heat all the spices in a dry heavy-based frying pan over medium heat for a few minutes, stirring often, until aromatic and golden brown. Tip into a small bowl to cool.
Grind to a fine powder, using a spice grinder, and store in an airtight container.
Dark roasted curry powder
This powder looks good and tastes amazing, and is wonderful sprinkled over your finished curry, or even a salad. When cooking a meat-style curry, this is the one to use.
makes 250g
90g (1 cup) coriander seeds
3 fresh curry leaf sprigs, leaves picked
2 tsp cloves
2 tsp green cardamom pods
2 cinnamon sticks, crushed
2 tsp raw rice
2 tsp fenugreek seeds
2 tsp brown mustard seeds
2 tsp fennel seeds
50g (½ cup) cumin seeds
5 dried red chillies, crumbled (including the seeds)
Toast the coriander seeds and curry leaves in a dry heavy-based frying pan over medium heat. After a couple of minutes, add the cloves, cardamom, cinnamon and rice, and toast until golden brown.
Now add the fenugreek, mustard, fennel and cumin seeds, and dry-roast for a few more minutes, or until fragrant, taking care not to burn them. Finally add the chilli pieces and toast for a minute or so.
Tip into a small bowl to cool. Grind to a powder, using a spice grinder or mortar and pestle, and store in an airtight container.
Yagut palau (pomegranate rice)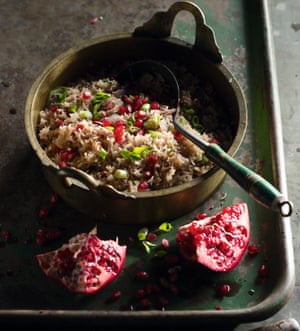 The Koran mentions the pomegranate as one of the fruits found in paradise, and medical research suggests it may help those wanting to extend their stay in this world. Rich in antioxidants, the pomegranate is promoted in the west as a defence against prostate cancer, heart disease and other illnesses.
We had a few pomegranate trees in our gardens in Sri Lanka, and whenever someone had a bruise, my aunties would quickly blanch the leaves to soften them and then apply a bandage filled with the leaves to the bruise.
Quite apart from any medicinal benefits, pomegranates are great to eat and are a stunning addition to this lovely dish.
serves 4
400g (2 cups) white or brown basmati rice
100ml virgin coconut oil
1 onion, finely chopped
1 garlic clove, chopped
1 tsp cumin seeds
1 tsp ground cardamom
½ tsp ground turmeric
150ml good-quality pomegranate juice (see tip)
150ml coconut water, vegetable stock or water
2 spring onions, finely chopped
1 tsp aleppo pepper
1 pomegranate, seeds separated, to garnish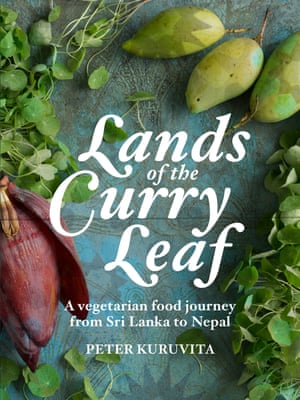 Soak the rice in a bowl of water for two hours.
Heat the coconut oil in a heavy-based saucepan over medium–high heat. Add the onion and garlic and cook, stirring often, for about 3 minutes, or until softened and golden brown.
Add the rice, cumin seeds, cardamom and turmeric, and stir to coat all the rice.
Stir in the pomegranate juice and coconut water, and bring to the boil. Reduce the heat to low and cook, partially covered, for 15–18 minutes, or until the liquid has been absorbed.
Remove from the heat, cover the pan and leave to stand for five minutes.
Fluff the rice grains with a fork, then fold in the spring onion and aleppo pepper. Season to taste with salt and freshly ground black pepper. Garnish with the pomegranate seeds and serve.
Tip: You can make your own pomegranate juice by passing the seeds of 5–6 fresh pomegranates through a juicer.
https://kenaiorganicfarms.com/wp-content/uploads/2018/09/organic-coconut-oil-logo.png
0
0
KenaiOrganicFarms
https://kenaiorganicfarms.com/wp-content/uploads/2018/09/organic-coconut-oil-logo.png
KenaiOrganicFarms
2018-09-25 02:44:44
2018-09-25 02:44:44
Meat-free: Peter Kuruvita's gourd curry and pomegranate rice recipes | Food