Quite possibly my personal food from a jar is peanut butter!
Did you know that the average American consumes about 3 pounds of peanut butter every year? I'm probably way over that mark. 
From pies to cookies to cakes, peanut butter is a staple ingredient in just about every kitchen. Here are some of our favorite recipes:
TERI STEPHENS shares delicious homemade recipes from her local food blog, Buy This Cook That (www.buythiscookthat.com), based in Big Sandy.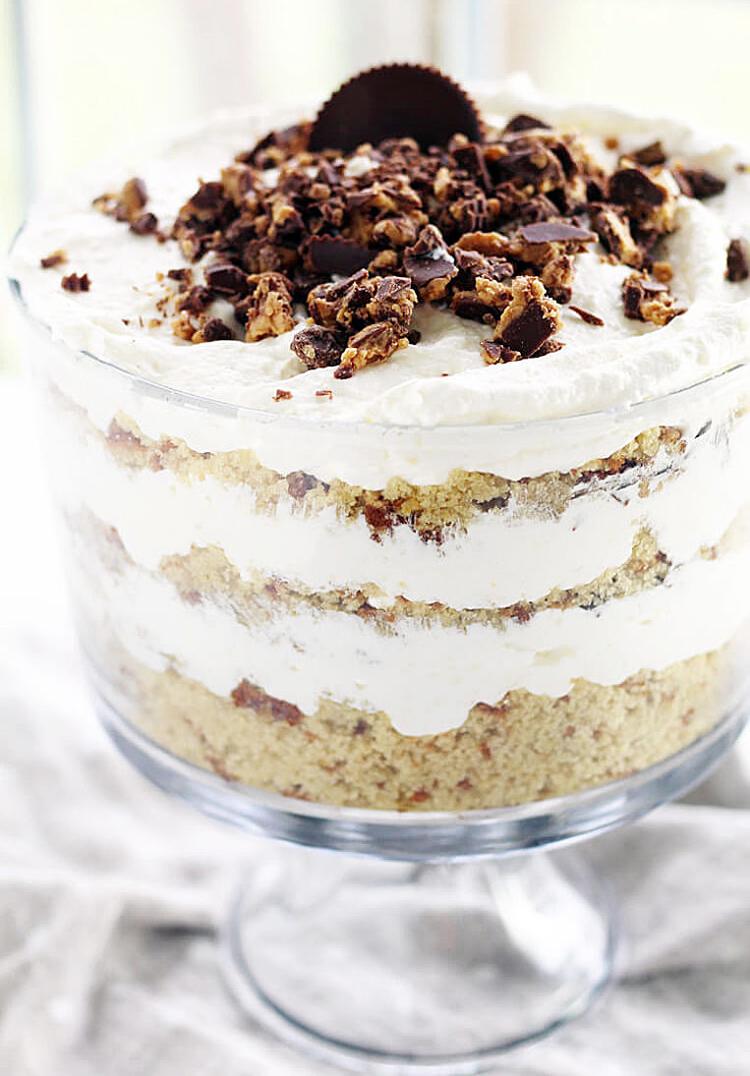 Peanut Butter Cup Punch Bowl Cake
You are going to love this super-sweet Peanut Butter Cup Punch Bowl Cake. Moist layers of cake, whipped filling and delicious peanut butter cups make this an indulgent dessert everyone will go crazy for. Best enjoyed with a hot cup of coffee.
1 box yellow or white cake mix
1/2 cup peanut butter flavored coffee creamer
1 1/2 cups powdered sugar
16 ounces whipped topping
12 peanut butter cups divided
Prepare cake mix using the box mix, oil, water, coffee creamer and eggs. Bake according to package time, cool completely. Crumble the cooled cake using a box grater.
In a large bowl, beat powdered sugar and egg yolks together until smooth. Slowly drizzle in the warm melted butter while beating on high speed. Fold in the tub of whipped topping by hand until combined.
Chop eight of the peanut butter cups into small pieces. Reserve one peanut butter cup to place on top. In a large clear punch bowl or trifle dish, assemble the punch bowl cake in layers.
Start with a layer of cake crumbs, then top with the whipped cream mixture and a layer of crumbled peanut butter cups.
Repeat layers, ending with a topping of whipped mixture and peanut butter cups.
Press remaining peanut butter cup into the top for garnish.
Cover and refrigerate overnight.
Peanut Buttery Hot Fudge Sundaes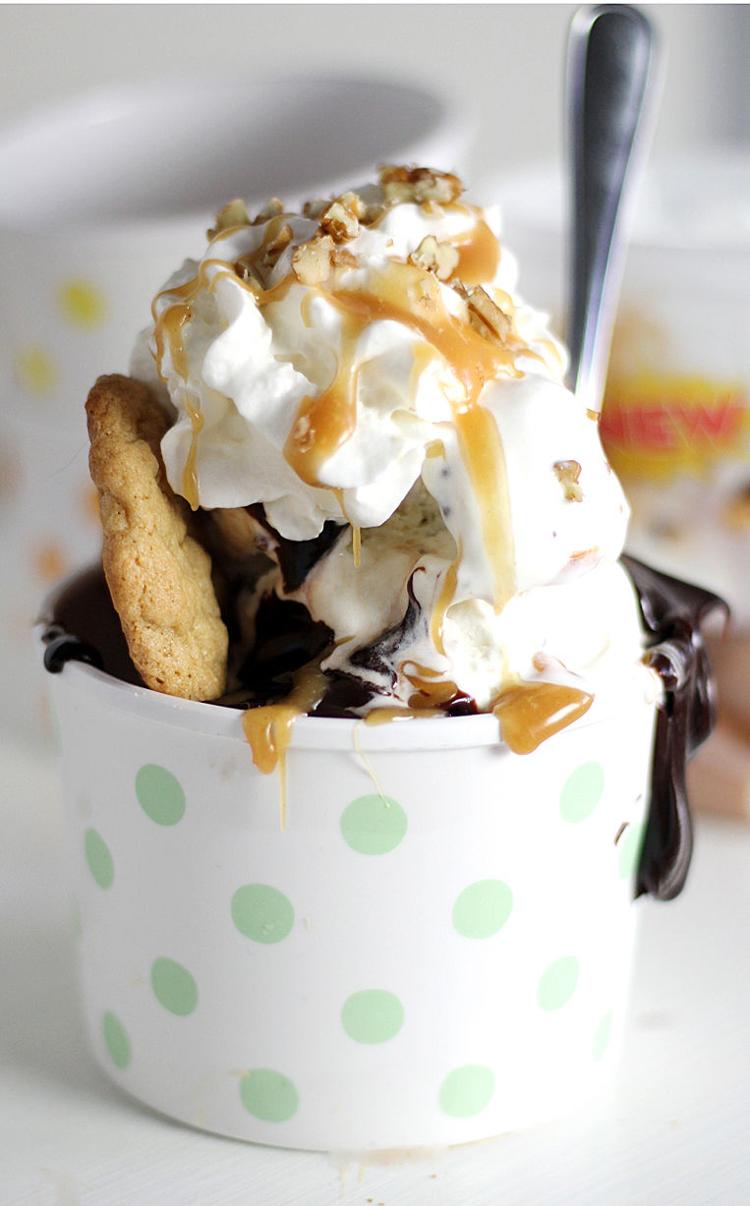 Ever have one of those days when you wanna skip dinner and go straight to what you really want to eat? Yeah, me too. So that's what we did tonight. Nutty Peanut Buttery Hot Fudge Ice Cream Sundaes. I know, I know, I'm so bad. Rich and creamy ice cream with crumbly cookies, peanut butter, waffle cones bites, hot fudge, whipped cream…the works!
6 tablespoons corn syrup or honey
2 tablespoons creamy peanut butter
Create your ice cream sundaes by placing two peanut butter cookies in the bottom of a bowl or serving dish. Top with ice cream and drizzle warmed hot fudge on top. (Heat per package directions.) Add a large dollop of whipped topping.
In a small bowl, stir together peanut butter and syrup. Heat for 30 seconds, stir again. Drizzle over whipped topping. Sprinkle with nuts and add another cookie or two. Serve and enjoy.
Peanut Butter Cocoa Cookies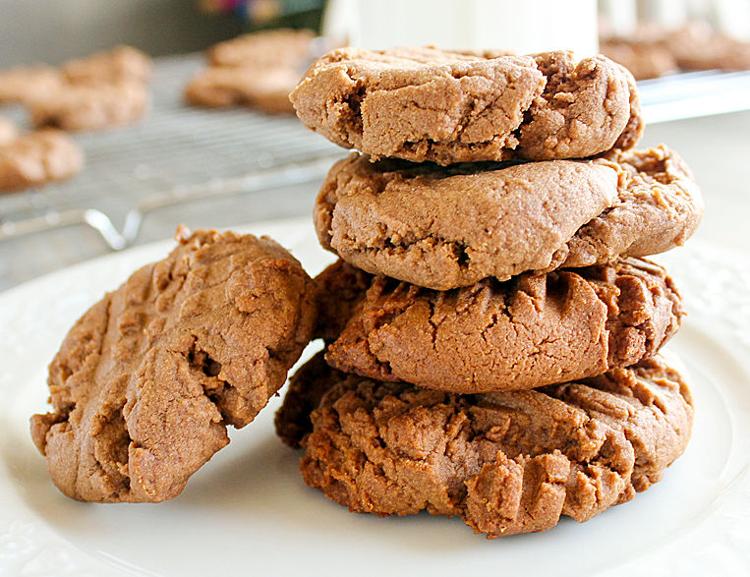 Peanut Butter Cocoa Cookies — is this the perfect combination in a cookie or what? This easy cookie recipe is perfect for impatient people. Why? Less than 10 minutes of preparation. Less than 10 minutes to bake. You can go from zero to snack-happy in less than 20 minutes!
3/4 cup creamy peanut butter
1-1/4 cups firmly packed light brown sugar
1-1/4 cups all-purpose flour
Combine shortening, peanut butter, brown sugar, milk and vanilla in large bowl.
Beat with electric mixer at medium speed until well blended. Add egg. Beat just until blended.
Combine flour, cocoa, salt and baking soda. Add to creamed mixture at low speed. Mix just until blended.
Drop by heaping teaspoonfuls (using a cookie scoop works great) 2 inches apart onto ungreased baking sheet. Flatten slightly in crisscross pattern with tines of fork.
Bake for 7-8 minutes, or until set and just beginning to brown. Do not overbake.
Cool 2 minutes on baking sheet. Remove cookies to racks to cool completely.
Chocolate Peanut Butter Keto Fat Bombs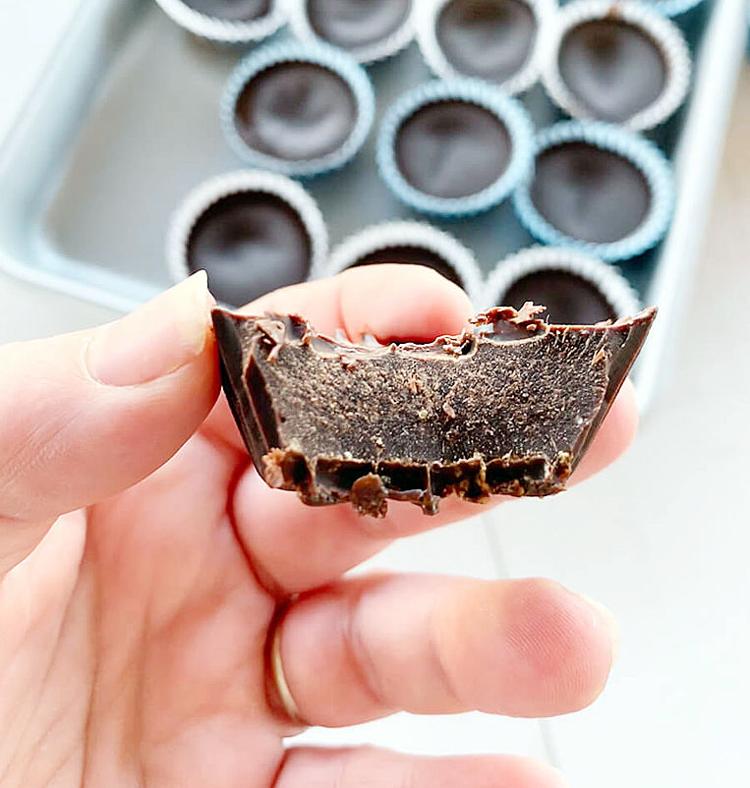 This recipe is perfect for anyone who is on the low-carb or Keto diet, or if you are trying to cut back on sugar. Yes, I know, I just loaded this newspaper page full of sugary sweets. But this one is full of healthy fat and low in sugar. There are only 4 carbs per fat bomb.
1 cup unsweetened cocoa powder
1 cup natural peanut butter
1-3 teaspoons stevia optional, more or less to taste
On a small tray, arrange 24 mini cupcake liners, set aside. (You can also use plastic ice cube trays.)
In a 4-cup glass measuring cup or bowl with a pourable spout, melt coconut oil in microwave in 20 second increments. Stir after each time until all of the white is gone and the oil is clear.
Stir in cocoa powder and stevia (if using), whisk with a fork until the mixture is smooth. Add the natural peanut butter. Stir until mixture is smooth and there are no major lumps.
Carefully and evenly pour chocolate mixture into prepared cupcake liners. Transfer to freezer and chill until solid, about 30 minutes.
Store in an airtight container in the fridge or freezer.
https://kenaiorganicfarms.com/wp-content/uploads/2019/03/5c924ba11319a.image.jpg
630
599
KenaiOrganicFarms
https://kenaiorganicfarms.com/wp-content/uploads/2018/09/organic-coconut-oil-logo.png
KenaiOrganicFarms
2019-03-20 17:59:26
2019-03-20 17:59:26
Peanut butter a staple in most kitchen pantries | Food