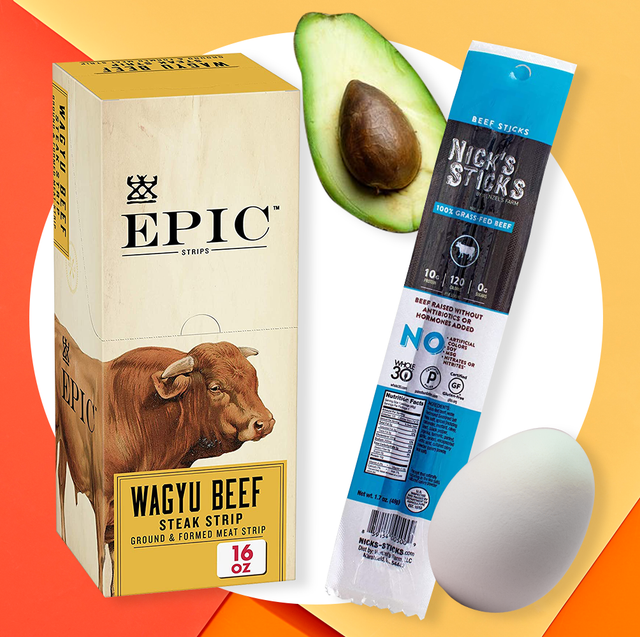 Courtesy
When it comes to weight loss or improving your eating style for good, the key to leaving your bad eating habits behind is creating a healthy relationship with food. That's what the Whole30 diet aims to help you do.
The Whole30 diet is an elimination-style eating plan that gradually eliminates whole food groups like dairy and processed junk foods that may (for some people) trigger inflammation and upset stomach. Instead, you can load up on whole foods, like unprocessed meats, seafood, and veggies. Ideally, it should help you pick up on food sensitivities which you may not know you have. "I use it commonly in my nutrition practice, and I've seen firsthand how it can eliminate cravings, balance blood sugar, and heal my client's digestive tract," says nutritionist Diana Rodgers, RD, a consultant for the Whole30 program and creator of the Sustainable Dish podcast.
Can you eat snacks on the Whole30 diet?
Though you should ideally aim to eat three large, high-quality meals and avoid snacking on Whole30, things happen and hunger can strike at any time (and if you're pregnant, nursing, or especially active, you'll need to eat more frequently throughout the day). So, it's probably a good idea to keep a snack stash just in case. Rodgers recommends choosing natural, whole-food options that are high in protein or healthy fats from animal and plant sources that are minimally processed, like coconut oil, olive oil, ghee, almond butter, coconut (shredded, flaked or coconut milk), seeds, and avocado.
If you're not sure where to start looking for snacks that are Whole30 compliant, you've come to the right place. Here are 30 tasty, dietitian-approved, Whole30-friendly snacks you can make or buy.
Advertisement – Continue Reading Below
1
Hard-Boiled Eggs
Toss together one chopped hard-boiled egg, one cup baby arugula, one teaspoon fresh lemon juice, and one teaspoon drained, rinsed capers. "This is an easy way to incorporate more veggies into your day," says nutritionist Sara Haas, RD, a chef and spokesperson for the Academy of Nutrition and Dietetics. "The egg has satisfying fat and protein, and the lemon and capers add flavor without a bunch of calories."
No time to prep? Try Pret A Manger's spinach and egg pot for a similar nutritional profile.
2
Olives
Rodgers says she loves to snack on olives because they're rich in antioxidants and healthy fats—she likes green castelvetrano and picholine olives. Just keep an eye on your portion size: You'll want about a handful. And be sure the olives you choose have no added sugar and are gluten- and dairy-free.
3
EPIC Bars
Epic Provisions
amazon.com
$38.99
Rodgers says meat bars are a perfect fit for the Whole30 diet, especially Epic Provisions. For around 140 calories a pop and eight grams of protein and fat each, Epic's beef, venison, wild boar, lamb, and bison bars are gluten-free and paleo-friendly. Flavors like Bison Bacon Cranberry, Chicken Sriracha, and Lamb Currant Mint have recognizable ingredients (bison, cured bacon, dried cranberries, and seasonings) that are all Whole30-friendly. 
"I love the folks at Epic Provisions because they source from regenerative farms," says Rodgers. The company's animals are raised on open pastures, according to their website, and are devoted to biodynamic ranching practices. Epic also offers jerky, snack bites, and trail mix that are handy when you're on the go.
4
Nick's Sticks
NICK'S STICKS BY WENZEL'S FARM
amazon.com
$28.99
Nick's Sticks are another meat bar hit with Rodgers. "My kids love them, and they're made from 100 percent grass-fed beef," she says. Sans nitrates, antibiotics, hormones, dyes, gluten, and sugars—just beef or turkey and seasonings like coriander, celery seed, and mustard—you'll get just 120 calories a serving plus 10 grams of protein and eight grams of fat.
6
Prosciutto with melon
"When I have guests over or want to be fancy, a plate of prosciutto with sliced melon is a beautiful and elegant option that's also Whole30 compliant," says Rodgers. You'll get delicious protein and fat in the prosciutto, plus the cantaloupe is a good source of vitamins A and C. One-quarter of a melon and a few slices of prosciutto add up to the perfect-portioned snack to tide you over.
7
RXBARs
If you're looking for a more traditional snack bar option, RxBars are a good meat-free source of protein, says Rodgers. Plus, with a healthy dose of fruit and nuts, they're made to taste like cookies. The bars come in plenty of fun, classic flavors—Peanut Butter, Chocolate Chip, Mixed Berry, Maple Sea Salt—that contain Whole30-friendly ingredients like egg whites, dates, peanuts, walnuts, and cashews. For 140 calories each, you'll get seven grams of protein plus three grams of fiber from the nuts and fruits (helpful to keep things moving along!).
8
Apples and Avocado
Smash up one-quarter of an avocado and add one-eighth teaspoon wasabi powder plus a pinch of salt and spread onto one sliced apple. The apple adds freshness and satisfying crunch; the avocado serves up filling, healthy fats; the wasabi adds a punch of heat and flavor; and the pinch of salt boosts the ingredients' natural flavors, says Haas. Yum!
9
CHOMPS Sticks
"These are one of our go-to snack options because they pack nine grams of protein from 100 percent grass-fed beef or venison, and they taste amazing," says Beacom, with flavors like Crankin' Cranberry, Jalapeno, and Salt & Pepper Venison. Bonus: They're sold at Trader Joe's and other big grocery chains. She suggests pairing a Chomps Snack Stick with a small apple or handful of berries for a snack with balanced protein, fat, and carbs.
11
Green Bean Salad
Get closer to your daily veggie quota at snacktime by combining 2 tablespoons of dried cranberries with two tablespoon toasted pepitas, one cup leftover cooked green beans and drizzle with olive oil. "This is a great way to use up leftovers, plus tossing with a few dried cranberries adds a subtle sweetness and tartness while the pepitas add healthy fat and crunch," Haas says.
12
Lettuce Wrap Spring Rolls
To make spring rolls Whole 30-compliant, skip the usual wrappers, says Kelsey Rosenbaum, RD at Sodexo. "Lettuce wraps are a great Whole30 compliant alternative to rice paper wrappers. I like to prep 4-5 different vegetables, a protein, and a Whole30 compliant dipping sauce ahead of time," says Rosenbaum. They're also family-friendly and quick and easy to assemble.
13
Egg Muffins
Eggs aren't just for breakfast, says Rosenbaum. "Egg bites or egg muffins can be an easy, make-ahead snack. You can even freeze them and pop them in the microwave whenever you need a quick pick-me-up." Plus, you can tailor your egg bites to your taste by incorporating your fave veggies, which are likely Whole 30-compliant (just skip the corn). Rosenbaum suggests adding at least three vegetables and salt and pepper. You can also add lean meats like turkey.
14
Jicama Sticks and Guacamole
Jicama is a Whole30-compliant veggie that's a good source of vitamins, minerals, and fiber, says Rosenbaum. "Plus, it offers a mild flavor and crunchy texture that pairs great with freshly made guacamole," she adds. To prep it, cut the jicama into sticks or slices and pair it with freshly-made guacamole to use it in the place of tortilla chips. "The avocado offers healthy fat and fiber to stay full for longer. Adding other fruits and veggies, like tomatoes, red onion, or mango, is a great and simple way to ramp up the nutrition!" says Rosenbaum.
15
Chia Pudding
Chia pudding is a healthy option for those with a sweet tooth, says Rosenbaum. To make chia pudding, Rosebaum recommends useing your choice of Whole30-compliant plant-based milk (like cashew or almond milk), chia seeds, a Medjool date, and spices like cinnamon. Blend the milk and date until it's smooth, and then pour the milk, chia seeds, and spices into a jar. Let it sit in the refrigerator for a few hours or overnight. The chia seeds will expand, soak up the milk, and thicken the mixture. Rosenbaum suggests topping the pudding off with your favorite fruit for a sweet snack.
16
RIND Snacks Straw-Peary Dried Fruit Superfood
RIND Snacks
amazon.com
$18.99
If you're looking for another tasty dried fruit snack (in moderation of course), Katie Cavuto, RD and corporate chef of Saladworks, recommends this one. The bag is filled with peel-on fruit, meaning the snack packs vitamins, fiber and antioxidants. "If you're looking for something to hit your sweet tooth, these are great options. Dried fruit is full of vitamins and minerals, and the best part is that they come without any added sugars," says Cavuto.
17
Brooklyn Biltong
Brooklyn Biltong
amazon.com
If you haven't heard of biltong, it's very similar to jerky. The difference is biltong is marinated and air-dried, instead of dehydrated and cooked, like jerky. Brooklyn Biltong specifically has Whole30's seal of approval, so there's no doubt this chewy beef is a tasty, compliant snack. 
18
Snack Board
If you just can't settle on one thing or plan on having a few guests over, snack boards are a solid option, says Rosenbaum. "Fill your snack board with sliced apples, grapes, berries, sliced bell peppers, carrots, and other seasonal fruits and vegetables. Plus, don't forget dips like Whole30-compliant hummus, ranch, or green goddess dressing," she adds. Snack boards are fun to create and eat because they include different textures, colors, and flavors. Just make sure all the foods you choose fall into the Whole30-compliant category.
19
Pistachios
Wonderful Pistachios
amazon.com
$6.94
Remember tree nuts aren't off limits, so go ahead and load up since they make the perfect quick snack. Rosenbaum recommends having pistachios since they're full of fiber, antioxidants, and healthy poly- and mono-unsaturated fats. 
20
Bare Natural Apple Chips
Dehydrated fruit, like these tasty apple chips, make for easy and compliant snacking, says Rosenbaum. But you want to be sure to limit your portion sizes to just a quarter of a cup. You also want to steer clear of dried fruit made with non-compliant additives like sulfites. These apple chips are made with just apples, and are gluten-free and non-GMO. 
21
Veggies Paired With Dressing
Tessemae's
amazon.com
$35.00
You may have to give your go-to dressing a break, but you can look to Whole30-compliant condiments, like these dressing from Tessemae's to fill in the void. "Paired with vegetables like carrots or celery, Whole30-approved dressings and dipping sauces make for flavorful snacking," says Rosenbaum. Tessemae's Whole30-compliant dressings come in flavors like habanero ranch, honey poppyseed, and balsamic vinaigrette. 
22
Humm Kombucha
Though all kombucha isn't Whole30-compliant, this specific brand has one that is. This kombucha from Humm has 0 grams of added sugar, compared to typical batches of kombucha which usually have around seven to eight grams of added sugar, says Rosenbaum.  She also adds that kombucha is a great source of probiotics, which help foster a healthy microbiome.
23
Taco Stuffed Sweet Potato
If you're looking for a Whole30-compliant method to spruce up a sweet potato, consider turning into into a makeshift taco. Sauté ground beef with minced garlic and onion, says Cavuto, then season it with salt, pepper, dried oregano, and cumin. Then you can stuff that meat inside of a baked sweet potato, and top it with avocado and chopped tomato.
24
Roasted Seaweed Snacks
Crunchy and tasty, what more could you ask for? Cavuto recommends these roasted seaweed snacks as an awesome Whole30-compliant option. "This is a great option for the Whole30 diet because it replaces your craving for chips. They're crunchy and salty, and they're simply made of seaweed, salt and olive oil," says Cavuto. If you're looking for other tasty options, you can also buy them in wasabi, onion, and chipotle flavors. 
25
Dang Toasted Coconut Chips
These salty coconut chips are a great fit for a snack, especially if it'll be a while before your next meal, says Cavuto. They're simply made of coconut and salt, and packed with healthy fats to keep you full and focused for the day. Plus, they're a good source of fiber, so they can help keep you regular. 
26
Sea Salt Plantain Strips
Artisan Tropic
amazon.com
$7.75
These plantain strips are another option that will satisfy your chip craving, but what's even better is that they are only made with three ingredients: plantains, non-hydrogenated palm oil, and sea salt. Plantains are totally okay on the Whole-30 diet, and are a good source of fiber and vitamins like A and C. 
27
Brussels Sprouts
Despite what popular culture makes them out to be, Brussels sprouts are incredibly tasty, especially when you roast them and coat them in a little olive oil and salt. Brussels sprouts also qualify as one of the many veggies that you can eat on while on Whole30.
28
RockIt Snacks Roasted Pumpkin Seeds
RockIt Snacks
amazon.com
$29.94
Sure, you can grab a regular ol' pack of pumpkin seeds, but have some of these instead to upgrade your snack time. These pumpkin seeds are seasoned with a blend of roasted dried tomato, mild chili, garlic, and a zip of lime, and they won't throw you off of your Whole30 journey. They're also made with only plant-based ingredients, but they're packed with protein.
29
Primal Sea Salt Beef Thins
The New Primal
amazon.com
These beef thins from The New Primal are stamped with the Whole30 seal of approval, and they're seasoned in sea salt, so don't worry about them tasting bland. In addition to being Whole30-compliant, the beef used for these thin strips is grass-fed without antibiotics or added hormones.
30
Olive My Pickle Pickles
Olive My Pickle
amazon.com
$39.97
Calling all pickle lovers, this Whole 30-compliant snack is for you. These pickle snacks are naturally fermented and are made without added sugars. Since they're naturally fermented, they also qualify as a source of probiotics, which help fuel a healthy gut.
This content is created and maintained by a third party, and imported onto this page to help users provide their email addresses. You may be able to find more information about this and similar content at piano.io
Advertisement – Continue Reading Below
https://kenaiorganicfarms.com/wp-content/uploads/2021/04/wh-index-whole30-1617310923.png
600
1200
KenaiOrganicFarms
https://kenaiorganicfarms.com/wp-content/uploads/2018/09/organic-coconut-oil-logo.png
KenaiOrganicFarms
2021-04-09 03:45:15
2021-04-09 03:45:15
The Best Whole30-Approved Snacks, According To Dietitians